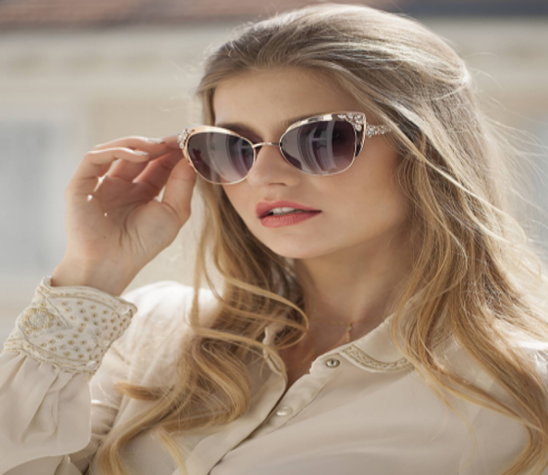 Swarovski Crystal Studded Pier Martino Sunglasses available at i2i Optical Mauritius
Crystals are an all-time favorite among human tastes. The blend of earthy elements and technology makes Swarovski Crystal the most favored crystals to be relished. Pier Martino Luxury Eyewear makes it happen by embellishing its beautiful luxury sunglasses with Swarovski crystals. The presence of Swarovski crystals is on the world's selected stores. In Mauritius, you will be lucky enough to find the new collections of Pier Martino Sunglasses at i2i optical Mauritius.
Speaking of Mauritius, it's blessed with nature's best and human creation. From tourism to business, it's a busy place to be in yet it never fails to serve you enough recreation. And to witness it all, you not only need a simple pair of sunglasses. Luxury sunglass collection from Pier Martino offers you the perfect combination to experience Mauritius flaunting the best in you.
Pier Martino eyewear is a world-renowned luxury eyewear brand that has tons of grandeur eye goodies to offer. Designed and manufactured in Italy, every eyewear of Pier Martino is crafted with world class material like superior quality wood, high-quality leather, acetate and Swarovski crystal embellishments. All these top-of-the-range materials form the perfect frame for your magnificent pair of sunglasses. Add to add more glam to it, the finest quality Swarovski crystals adorned the frames. While your eyes sparkle with crystals, the Pier Martino sunglasses ensure comfort and care as you wear it.
This high-end brand has played with lots of different colors and shades, of course, the Swarovski crystals and stones have played the game very well. From a single color dominating the sunglass to ombre or gradient shades, all are framed beautifully just to accentuate your inner personality a bit extra. The frames, lenses, shades, color and Swarovski stones and crystals – all blend in one recipe to create that magical look that beautifies every persona and bringing out the inner beauty, dignity and elegance in just one wear. The splendor is unbounded, as each and every pair of this luxury eyewear comes in different styles. Combined sunglasses, rimless sunglasses, acetate sunglasses, metal sunglasses are only just a few styles to name. And to spoil your choices, Pier Martino has embellished with the finest pieces of luxury, the Swarovski crystals and stones that needs no definition. Jet Swarovski crystal stones, Rose Swarovski, Topaz Swarovski, Aquamarine Swarovski, and Crystal Swarovski stones are just enough to make you spellbound. Cut and polished with precision, this top of the world stones are the embodiment of earthly elements, redefined with technology, the positive vibes of which adds to your eyes as you wear it.
The sunglasses not only gives a brand new shape to your look but also takes ample care of your vision, ensuring a total comfort as the pair of luxury rests in comfort on your face. It's truly a gift to your eyes to be able to speak out confidently. Pier Martino has got exclusive and latest collections that are only available on selected stores all around the world.
If you are out in Mauritius for a vacation or want to gift these luxurious pairs to your loved ones, grab yourself some latest collections of Pier Martino sunglass, exclusively at i2i optical Mauritius. The i2i Optical in Mauritius pioneers in introducing most popular and leading eyewear brands and no doubt, the Pier Martino sunglasses and optical frames are available along with its exclusive latest collections.